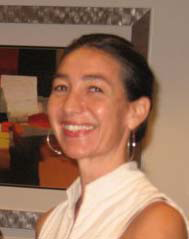 Sophie Caballero has helped adults and children recover from injuries, reverse the effects of serious illness, significantly eliminate chronic pain, and gain mental clarity, calmness and overall better health. She has found that the so-called "incurable" symptoms, illnesses, pathologies and diseases are mostly the result of unresolved trauma in the neurophysiology. Succeeding in her approach, Sophie has received many video testimonials from clients that attest to the immediate, profound changes they've experienced yet wouldn't have believed had they not felt them with their own bodies.
Sophie's training entails earning the highest level of certification in Somatic Trauma Resolution, Biodynamic Craniosacral Approach (6 years) and Shiatsu Therapy (6 years), and the AntiGymnastique Method—all of which are grounded anatomy, physiology, neurology, neurophysiology, embryology, behavioral psychology and nutrition. To maintain the quality of presence required, Sophie has completed a 10-year, deep immersion into BioEnergetics therapy (Dr. Alexander Lowen's Body Psychotherapeutical approach) and ongoing self-development work. For almost 30 years, she practiced Equilibre, her unique blend of these healing modalities in Europe and North America.
The applications sound foreign to many, but the principles that restore an individual (mind and body) to homeostasis are simple. Sophie now empowers other professionals to reach and heal many more individuals than she could on her own.
Born and raised in Paris to a father from Granada, Andalusia, Spain and a mother of French and Russian origin, Sophie says her values of integrity, service and excellence stem from her family, going back to her maternal great-grandfather, a high-ranking military Cossack officer. She received her undergraduate degree in languages (English, Spanish, and Russian) from Universite Paris VIII. Sophie spent two semesters of her undergraduate work at NYU, where she studied international relations and international business. In addition, she completed a one-year work/study internship that focused on import/export with the Paris Chamber of Commerce.
Speaking French, English, Spanish, Italian, Russian and Portuguese, Sophie has lived in London, New York, Rome, Atlanta, and San Francisco. Additionally, she has travelled extensively in Russia, India and South America. Currently based in Italy, Sophie frequently travels between cities in the US and Europe, which allows her to serve an international clientele.